Biana Bakman
The media and tech industries have been talking about their lack of diversity for decades now. And yet, despite panel discussion upon pipeline recruiting initiative upon keynote speech, the executive teams of most U.S.-based companies in these industries continue to look remarkably similar to how they looked half a century ago, made up of primarily middle-aged White men. I've coined this phenomenon the "John, John and John Show."
This enduring lack of diversity, despite all of the posturing, was once again made evident when Adweek released their "2018 Power List: 100 Cutting-Edge CEOs in Marketing, Media, Branding and Tech." To quote Cindy Gallop: "the fact [that] Adweek's Power 2018 list features 95 men, only 12 women, 0 black people, is why we need a new definition of 'power'."
The New York Times Glass Ceiling Index offers another view of the gender disparity.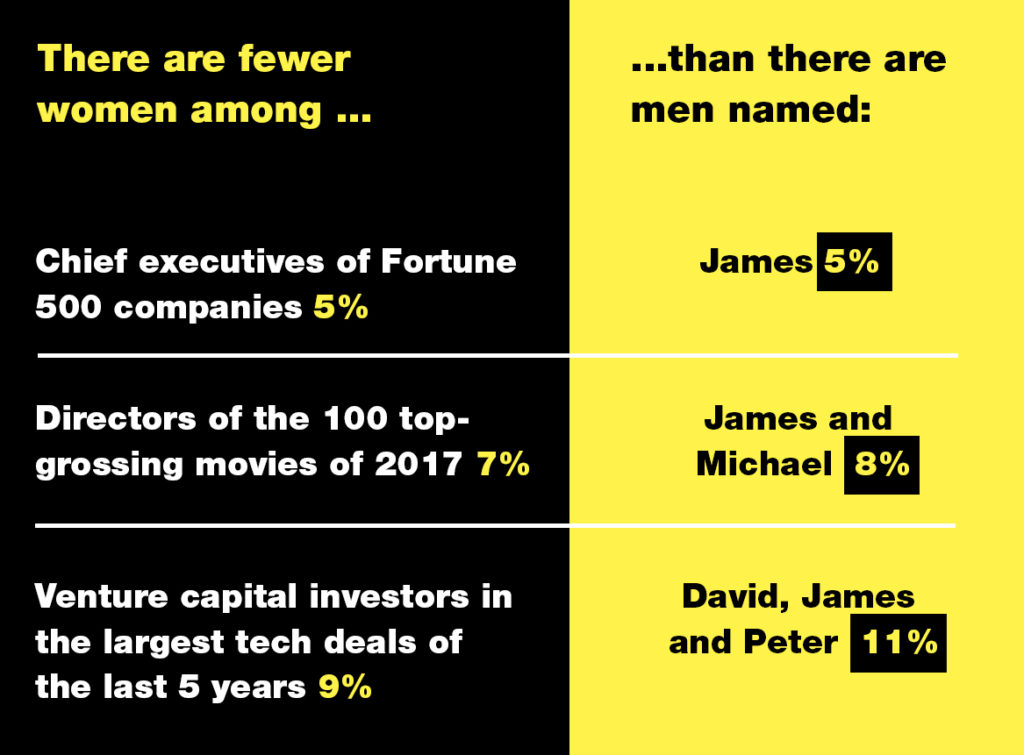 The world is becoming ever more diverse and interconnected. Based on census projections, the U.S. will become 'minority White' by 2045. Thanks to advances in communications technology and social media platforms, marginalized groups now have unprecedented access to media through which to voice their concerns and share their experiences. As more peer conversations occur among people sharing similarly frustrated experiences, the collective patience with this slow rate of change is dwindling. No longer can tech companies, agencies and brands get away with failing to represent the audience and consumers they are trying to reach.
While many initiatives are focused on building a pipeline with young talent, there is far too little progress – if not outright regression – in diversifying senior management. Numerous factors play a role in this, including:
Young people of color enter the industry, but in a few years – sometimes even a few months – find themselves so disillusioned that they choose to transition to contract/freelance work. They understand the disparity between the value corporations gain from their work and what they are being paid, and decide they would be better off making the same amount or even less on their own. Others may choose to explore opportunities in different industries altogether.
There is slow movement of executives at the higher rungs of the ladder. Once you have worked your way up the corporate ladder, your likelihood of leaving that position decreases. The fewer openings there are at the top, the slower it will take to change the face of leadership. Movements such as #MeToo and Time's Up/Advertising that publicly called out bad behavior at the upper echelons of the industry (behavior that was previously swept under the rug), have removed some of the bad actors and opened up more opportunities, though not nearly enough.
Those senior leaders who do leave are still often being replaced by people who look and think just like them. We have spoken to many women and people of color in these industries who share stories of the disproportionate standards they are being held to compared their White and male peers. "You need a few more wins in your portfolio." "The work you're doing is great, but you're just not ready yet." "Give it a couple more years." These are just some of the refrains commonly heard in performance reviews from frustrated employees who are seeing younger, less qualified colleagues leapfrog up the corporate ladder.
McKinsey & Company's "Delivering Through Diversity" report, updated in January 2018, proves the business case for change. According to the report, "companies in the bottom quartile for both gender and ethnic diversity were 29% less likely to achieve above-average profitability than were all other companies in [the] data set." In short, not only were they not leading, they were lagging. Conversely, McKinsey found that "companies with the most ethnically diverse executive teams – not only in terms of absolute representation, but also of the variety or mix of ethnicities – are 33% more likely to outperform their peers on profitability."
Senior executives and shareholders alike need to understand this. To once again quote Cindy Gallop, there is "an absolute goddamn fucking shit-ton of money" to be made in diversifying your leadership team.